An in planta, Agrobacterium-mediated transient gene expression method for inducing gene silencing in rice (Oryza sativa L.) leaves
Received: 25 November 2011
Accepted: 12 July 2012
Published: 31 August 2012
Abstract
Background
Localized introduction and transient expression of T-DNA constructs mediated by agro-infiltration of leaf tissues has been largely used in dicot plants for analyzing the transitivity and the cell-to cell movement of the RNAi signal. In cereals, however, the morphology of the leaf and particularly the structure of the leaf epidermis, prevent infiltration of a bacterial suspension in cells by simple pressure, a method otherwise successful in dicots leaves. This study aimed at establishing a rapid method for the functional analysis of rice genes based on the triggering of RNA interference (RNAi) following Agrobacterium-mediated transient transformation of leaves.
Results
Using an agro-infection protocol combining a wound treatment and a surfactant, we were able to obtain in a reliable manner transient expression of a T-DNA-borne uidA gene in leaf cells of japonica and indica rice cultivars. Using this protocol to transiently inhibit gene expression in leaf cells, we introduced hairpin RNA (hpRNA) T-DNA constructs containing gene specific tags of the phytoene desaturase (OsPDS) and of the SLENDER 1 (OsSLR1) genes previously proven to trigger RNAi of target genes in stable transformants. SiRNA accumulation was observed in the agro-infected leaf area for both constructs indicating successful triggering of the silencing signal. Accumulation of secondary siRNA was observed in both stably and transiently transformed leaf tissues expressing the HpRNA OsSLR1 construct. Gene silencing signalling was investigated in monitoring the parallel time course of OsPDS-derived mRNA and siRNA accumulation in the agro-infiltrated leaf area and adjacent systemic sectors. The sensitive RT-Q-PCR method evidenced a consistent, parallel decrease of OsPDS transcripts in both the agroinfiltred and adjacent tissues, with a time lag for the latter.
Conclusions
These results indicate that the method is efficient at inducing gene silencing in the agro-infected leaf area. The transfer of low amounts of siRNA, probably occurring passively through the symplastic pathway from the agro-infected area, seemed sufficient to trigger degradation of target transcripts in the adjacent tissues. This method is therefore well suited to study the cell-to-cell movement of the silencing signal in a monocot plant and further test the functionality of natural and artificial miRNA expression constructs.
Keywords
Agrobacterium tumefaciens Gene silencingLeaf agroinfection OsPDS OsSRL1 RiceTransitivityCross silencing
Background
In dicots plants, agro-infection methods allow efficient transfer and transient expression of T-DNA vectors in leaf cells. Transient assays by agro-infiltration have thus been increasingly used as a simple and rapid method for assaying gene function (Wroblewski et al. 2005; Small 2007). Because they provide a rapid, versatile and convenient way for achieving a very high level of gene expression in a distinct and defined zone of the leaf, these Agrobacterium-mediated transient expression systems have been largely used for analyzing the induction of the RNA silencing process, thereby validating gene function through down regulation of gene expression - as illustrated recently in grapevine (Bertazzon et al. 2012)- and analyzing the mechanism of transitivity and movement of RNA silencing in leaves (e.g. Schöb et al. 1997, Voinnet 2001).
In rice, as in other cereals, the establishment of such a system is hindered by the monocot leaf structure which includes the presence of an epidermal cuticular wax and high silicium content preventing infiltration of bacterial suspension by simple pressure. Microprojectile bombardment has been used as an alternative delivery method to introduce expression construct in cereal leaf cells. As to gene silencing, bombardment-mediated introduction of dsRNA corresponding to endogenous genes or transgenes in cells of maize, barley and wheat leaves proved to induce interference with gene function but restricted to the single cell where the delivery is achieved (Schweizer et al. 2000). This stresses the need to establish a rapid, versatile and convenient protocol for achieving a very high level of gene expression in planta -e.g. in a distinct and defined zone of the cereal leaf.
Once established and among a range of applications, such a method could be used for triggering a localized, hpRNA-mediated silencing process and further study the transitivity and spreading of the silencing signal throughout the whole plant. RNA silencing is non-cell autonomous and operates through different pathways involving separate mechanisms and, probably, distinct signals (Voinnet 2005a; Brodersen and Voinnet 2006; Ghildiyal and Zamore 2009). The systemic silencing signal reflects with many evidences an antiviral defence mechanism in plants: non-cell autonomous silencing relies on a systemic signal that moves ahead or follows RNA viruses by the same way of propagation to initiate RNA silencing and prevent or delay viral infection (Voinnet 2005b). While RNA-silencing induction and RNA degradation have been studied in detail, much less is known about why and how RNA silencing moves from cell-to-cell and sometimes spreads systemically in plants. The answer to these questions seems to be closely related to the transitive RNA silencing observed in C. elegans and plants. In these organisms, RNA silencing can be amplified by a phenomenon called transitivity which increases the initial pool of siRNAs by producing secondary siRNAs corresponding to sequences located outside the primary targeted regions of a transcript (Nishikura 2001; Sijen et al., 2001). Himber et al. (2003) have proposed a model of RNA silencing cell-to-cell movement including a central role for transitivity. The vast majority of experimental data used to formulate this model of RNA silencing movement over cells and organism was accumulated in N. benthamiana and A. thaliana. Regarding transitivity of RNA silencing and signalling, experience on monocotyledonous plants remains fairly limited since the report of the conservation of the transitive RNA silencing machinery in rice by Miki et al. (2005).
The goal of this study was first to establish a standardized Agrobacterium transfection protocol for inducing transient gene expression in rice leaf cells. The second objective was to illustrate this method in inducing the silencing of two endogenous rice genes (OsPDS and OsSRL1) to investigate the transitivity and systemic spreading of the RNAi signal in a monocotyledonous leaf.
Methods
Plant Material and in planta agroinfection
Three varieties of rice (Oryza sativa L.) were used in this study: (i) the sub tropical japonica rice cv. Zhong Zuo321 from China, (ii) the temperate japonica rice cv. Nipponbare and (iii) the high value indica rice cv. IR64 from IRRI. Bacteria used for rice agroinfection were plated on solid AB medium (Chilton et al. 1974) containing 50 mg/l kanamycin sulfate and 75 mg/l rifampicin and incubated at 28°C for 3 days. The bacteria were then collected with a flat spatula and re-suspended in liquid agroinfection medium (R2 Basic (Sallaud et al. 2003) + 10 g/l glucose, 200 μM acetosyringone, 0,01% Silwet L-77, pH5.5) by vortexing to give an absorbance at 600 nm between 0.5 and 0.8. The antepenultimate emerged leaf of plantlets at tillering stage were mechanically wounded with multiple needles and immersed in the Agrobacterium suspension at 20°C for 30 to 60 min. The plantlets were grown for 2 to 3 days at 20°C and then placed under containment greenhouse growth conditions. Agrobacterium-mediated transformation of seed embryo-derived embryogenic callus was performed according to Sallaud et al. 2003.
Gene specific tag (GST) and T-DNA constructs
The binary vector pC5300, a pCAMBIA 1300 derivative, had been described elsewhere (Breitler et al.
2004
). The reporter plasmid pC5300-UGN bears the
uidA
gene under the control of the entire 5' untranslated region of the maize polyubiquitin gene
Ubi-1
(Christensen and Quail
1996
) and the polyadenylation sequence from
A. tumefaciens nos
gene. The hpRNA binary vector pBIOS 738, kindly provided by W. Paul and P. Perez (BIOGEMMA, Clermont-Ferrand, France), was constructed by cloning the intron of rice tubulin1 gene between twin Gateway™ cassettes in inverted orientation into a pCAMBIA 2300 binary vector. This hpRNA expression cassette is under the control of the cassava vein mosaic virus (CsVMV) promoter (Verdaguer et al.
1998
) and the polyadenylation sequence from
A. tumefaciens nos
gene (Figure 
1
).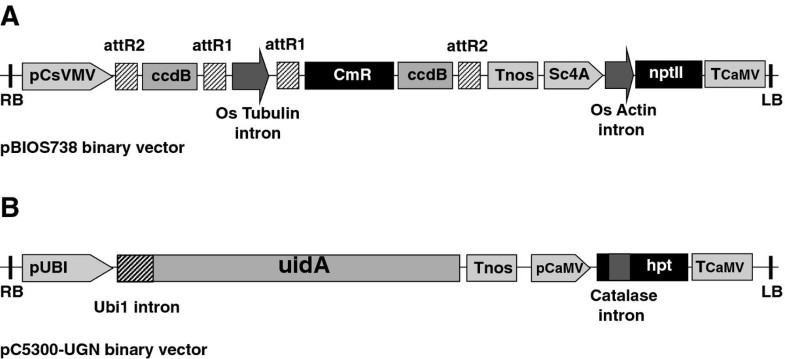 For the rice PDS gene a 400 bp fragment (Accession no. AF049356.1, nucleotides no. 660–1040) was used as GST (forward primer: 5'-GAAGTTTGCTCTTGGACTTTTGCCA-3' and reverse primer: 5'-TATTTGAGTTCCATCGGTAAGTGCA-3').
For the SLR1 gene (Accession no. AB030956), the GST (nucleotide 969–1469) is a DNA fragment of 500 bp (forward primer: 5'-AAGTTCGCCCACTTCACCGCAAATC-3' and reverse primer: 5'-TCGAGGAATGAGCCGGAGTTGTGGT-3'). The hpRNA binary vectors were introduced into Agrobacterium strain EHA105 by electroporation.
RNA analysis
Total RNA extraction was performed with Tri-Reagent (Sigma) and was used for both high-molecular-weight and small RNA analysis. Total RNA were separated on 17.5% denaturing polyacrylamid gels and then transferred to nylon membranes (Hybond NX, Amersham). Perfect-Hyb buffer (Sigma) was used for hybridization. Probes were DNA fragments labelled by random priming incorporation of [32 P]dCTP (Amersham). The GST probe was PCR products similar to GST cloned in the pBIOS738 binary vector. The 5' probes were produced by PCR using the following set of primers: 5'pds, 5'-GGTGCTTCGCAAGTAGCAGC-3' and 5'-TACTAAGAAACAATGAAATG-3' and 5'slr1, 5'-GTGCAAGGACAAGGTGATGG-3' and 5'-GCACGCCCACTTCTACGAGT-3'. The 3' probes were produced by PCR with the following set of primers used for RT-PCR analysis 3'-pds, 5'-TTGTGCTCAGTCTGTAGTGGA-3' and 5'-TGTGAAGGGATTAAGAGACC-3' and 3'-slr1, 5'-GGCACAATTGAAGCTTGACG-3' and 5'-ATAGATGGGCTAGGAGGACCAAG-3'. Following hybridisation, the membrane was washed twice for 20 min at 50°C (2x SSC and 2% SDS) and all hybridisation signals were detected by phosphorimaging (Storm 820, Amersham).
Real-time PCR analysis
Total RNA extraction was performed with Tri-Reagent (Sigma) according to the manufacturer's instructions. The template DNA was removed by treatment with the DNA RQ1 RNase-free DNase kit (Promega). Each cDNA sample was subjected to real-time PCR analysis in triplicate. To normalize the variance among samples, OsExp (Os06g11070.1) was used as endogenous control (Caldana et al. 2007). Relative expression values were calculated after normalizing against the control cDNA. Primers were designed from 3' end of the gene using Primer3plus (http://www.bioinformatics.nl/cgi-bin/primer3plus/primer3plus.cgi) with QPCR parameters 'on'. Each primer pair was checked for their specificity using the Primer Blaster tool in OryGenesDB (http://orygenesdb.cirad.fr/tools.html), which were further confirmed by dissociation curve analysis obtained after the QPCR reaction. First strand cDNA was synthesized by reverse transcription using 1.5 μg of total RNA in 20 μl of reaction volume using SuperScriptIII (Invitrogen) as per manufacturer's instructions. Diluted cDNA samples (1/10) were used for Real time PCR analysis with 200 mM of each gene specific primer mixed with SYBR Green PCR master mix in a final volume of 15 μl following manufacturer's instructions. The reaction was carried out in 96-well optical reaction plates (Roche), using the Light Cycler 480 Sequence Detection System and software (Roche).
Primer sequences were: 5'-pds, 5'-GTTCCTGATCGAGTGAACGATG-3', 3'-pds, 5'-CGAACATGGTCAACAATAGGC-3'; 5'-OsExp, 5'-CGGTTAGCTAGAGTTCATGTGAGA-3', and 3'-OsExp, 5'-ATTGGAGTAGTGGAGTGCCAAA-3'.
Conclusion
In conclusion, this work demonstrates that in planta, Agrobacterium-mediated transient expression of T-DNA constructs is achievable in rice leaves. The possibility to trigger RNAi in a localized manner in the rice leaf opens new perspectives to study the cell-to-cell movement of the silencing signal in a monocot plant. This method could also be of particular interest to test the functionality of natural and artificial miRNA expression construct, in ascertaining miRNA processing and cleavage of target genes that are expressed in rice leaves. It is indeed often necessary to assay several amiRNAs, the sequences of which are based on computational predictions, to find one which effectively triggers knock down of a target gene (Warthmann et al. 2008). As this transfection method has been used to achieve localized GUS expression in roots of rice plants grown in hydroponics (data not shown) it should be as well applicable for target genes expressed in other rice organs.
Aurélie Andrieu and Jean Christophe Breitler are first co authors.
Declarations
Acknowledgments
We thank the Région Languedoc Roussillon for providing AA with a PhD grant. We thank Dr W. Paul and Dr P. Perez for the pBIOS 738 plasmid and AGRIDYNE S.A. company for providing us with Silwet L-77 surfactant. We thank Dr C. Périn, CIRAD, for valuable advices in the course of this research and assistance in Q-RT-PCR analyses.
Authors' Affiliations
(1)
CIRAD, UMR AGAP, Montpellier, France
(2)
Université Montpellier II, UMR DIADE, Montpellier, France
Copyright
© Andrieu et al.; licensee Springer. 2012
This article is published under license to BioMed Central Ltd. This is an Open Access article distributed under the terms of the Creative Commons Attribution License (http://creativecommons.org/licenses/by/2.0), which permits unrestricted use, distribution, and reproduction in any medium, provided the original work is properly cited.