Toward Understanding Molecular Mechanisms of Abiotic Stress Responses in Rice
Received: 28 April 2008
Accepted: 3 July 2008
Published: 15 August 2008
Abstract
Plants have evolved delicate mechanisms to cope with environmental stress. Following exposure to environmental stimuli, extracellular signals are perceived and transmitted through signal transduction cascades. Upon receipt and transmission of the signals, a number of stress-related genes are induced, leading to stress adaptation in plant cells. Rice, which is a critical food grain for a large portion of the world's population, is frequently impacted by several abiotic stressors, the most important of which are drought, salinity, and cold. Exposure to environmental conditions outside of acceptable tolerance ranges can negatively affect rice growth and production. In this paper, a review of rice responses to abiotic stress is presented, with particular attention to the genes and pathways related to environmental stress tolerance. It is apparent that, while progress has been made in identifying genes involved in stress adaptation, many questions remain. Understanding the mechanisms of stress response in rice is important for all research designed to develop new rice varieties with improved tolerance.
Keywords
Abiotic stressRiceSignal perception and transductionTranscription factorStress tolerance
Plant growth and productivity can be adversely affected by abiotic stress. Plants are exposed to any number of potentially adverse environmental conditions such as water deficit, high salinity, extreme temperature, and submergence. In response, plants have evolved delicate mechanisms, from the molecular to the physiological level, to adapt to stressful environments.
Rice is the staple food for more than half of the world's population. Evolved in a semi-aquatic, low-radiation habitat, rice exhibits distinct tolerance and susceptibilities to abiotic stresses among domesticated cereal crops [92]. Rice thrives in waterlogged soil and can tolerate submergence at levels that would kill other crops, and is moderately tolerant of salinity and soil acidity but is highly sensitive to drought and cold [92]. Cultivated over a broad region between 45° north and south latitudes, rice plants are faced with low temperature in temperate regions, submergence in tropical regions, water deficit in humid tropics, and other stressors [109].
Arabidopsis is a good model in plant molecular biology and genetics research, and the majority of studies examining the impacts of abiotic stress have employed this plant [37, 85, 165, 183, 193]. The signaling pathways and regulatory network in Arabidopsis have been well characterized and well reviewed. Although progresses were also made on rice, reviews were less focused on this most important crop because of little functional genes characterized. Recent years, multiple genes contributing to abiotic stress responses in rice were identified by using genetics, reverse genetics, and molecular biology method. Here, we present a summary to display those progresses so as to better understand genetics and molecular mechanisms of rice response to abiotic stress.
Signal perception
Signal perception is the first step of plant response to environmental stress. A stress sensor can detect environmental variables and specifically transmit the initial stress signals to cellular targets. Some of the two-component histidine kinases (HK) function as stress sensors in bacteria and yeast. For example, the cyanobacterium Hik33 [166] and the Bacillus subilis DesK [6] are thermosensors that induce gene expression in response to low temperature. The Saccharomyces cerevisiae histidine kinase SLN1 is an osmosensor that activates the HOG1 mitogen-activated protien kinase (MAPK) pathway [110]. In the cyanobacterium Synechocystis, at least five HKs are involved in the perception of osmotic stress [127].
Each environmental stimulus provides plant cells with specific yet related information. Given a large number of potential stimuli, it is possible that plants may monitor the unique attribute of stress signals through different kinds of sensors [183]. To date, most of the stress sensors remain unidentified. Urao et al. [175] reported that the temperature-sensitive osmosensing-defective sln1 yeast mutant, sln1-ts, is lethal because the HOG1 MAPK cascade is constitutively activated at 37°C and Arabidopsis histidine kinase AHK1/ATHK1 can nullify this mutation. Moreover, expression of AHK1/ATHK1 in the yeast double mutant sln1Δ sho1Δ, which lacks two osmosensors, activates the HOG1 pathway and confers high-osmolarity tolerance to the double mutant [175]. These results suggest that Arabidopsis AHK1/ATHK1 can act as an osmosensor in yeast. Microarray analysis reveals that AHK1/ATHK1 functions upstream of several stress-responsive transcription factors, such as AREB1, ANAC, and DREB2A, and is a positive regulator of drought and salt stress responses through both abscisic acid (ABA)-dependent and ABA-independent signaling pathways [171]. In Arabidopsis, four of six nonethylene receptor histidine kinases, AHK1/ATHK1, AHK2, AHK3, and AHK4/CRE1, are stress-responsive. However, unlike AHK1/ATHK1, AHK2, AHK3, and AHK4/CRE1 are negative regulators in ABA signaling, and AHK2 and AHK3 are negative regulators of osmotic stress responses [171]. AHK2, AHK3, and AHK4/CRE1 also function in cytokinin signaling [54, 122].
The two-component system, which typically contains two conserved proteins—a histidine protein kinase and a response regulator (RR) protein—plays an important role in the perception and integration of various extracellular and intracellular signals in prokaryotes, lower eukaryotes, and plants [14, 160, 173]. When activated by environmental stimuli, the histidine kinase autophosphorylates the conserved histidine residue within its transmitter domain. The phosphoryl group is subsequently transferred to an aspartate residue in the response regulator protein, resulting in a conformational change that activates a downstream signaling cascade [160]. The Arabidopsis RRs are classified into two distinct subgroups, type A RRs and type B RRs. Type B RRs, including 11 members, have a phosphorylatable receiver domain at their N terminus and a GARP DNA-binding domain in the middle, and function as DNA-binding transcriptional factors [63, 67, 146]. The type A RRs, including ten members, contain only the receiver domain with no DNA-binding domain [67, 68, 80]. Results from overexpression and mutant plants reveal that type A RRs are negative regulators of cytokinin signaling, while type B RRs are positive regulators [63, 80, 146]. But their roles in abiotic stress signaling remain unknown.
There are at least 14 histidine kinase genes, 15 type A RR genes, and seven type B RR genes identified in rice genome [30, 71, 73, 128], while most of them have not been intensively studied. As a result of alternative splicing, 14 genes encode 22 putative histidine kinases in Oryza sativa ssp. japonica, including at least seven members of the OsHK family that demonstrate a close relationship with AHK1/ATHK1 [128]. The induction of OsRR6 in response to salinity, dehydration, and low temperature indicates its role in both abiotic stress and cytokinin signaling [73]. In rice, the best studied two-component system protein is Early heading date 1 (Ehd1), a type B RR. Edh1 promotes flowering by inducing FT-like gene expression under short-day conditions, indicating that the two-component system is involved in photoperiodic flowering pathway in rice [28]. Two-component systems are also thought to be involved in sensing abiotic stress in rice, although their biological roles are not well understood.
Signal transduction
Once an extracellular stimulus is perceived, second-messenger molecules, e.g., Ca2+, inositol phosphates, and reactive oxygen species (ROS), are immediately generated. Second messengers subsequently activate a downstream signal cascade that phosphorylates transcription factors that regulate the expression of a set of genes or proteins involved in stress adaptation [183]. Signaling can also bypass second messengers in the early signaling steps [183]. Phosphorylation by protein kinases is the most common and important regulatory mechanism in signal transduction. CBL-CIPK, CDPK, and MAPK pathways have been identified as being involved in plant stress signaling [105, 106, 169].
Transcriptional regulation network
It has been estimated that about 10% of the yeast genes are transcriptically affected by salt stress [
192
]. Although the proportion of affected genes in higher plants seems lower, based on published expression profile data, the actual number should be even higher than that in yeast, considering that higher plants are composed of several highly differentiated tissues and cells. For example, the abiotic stress-affected genes in roots and shoots, and in guard cells and mesophyll cells are quite different [
19
,
90
,
95
]. The transcriptional regulation networks of higher plants, therefore, are likely to be much more complex. To date, multiple regulons involved in reprogramming of abiotic stress have been identified (Fig.
3
). Although current data are inadequate to provide a clear picture of the functional stress response pathways in higher plants, ongoing progress will continue to expand our understanding of the complex mechanisms that are involved.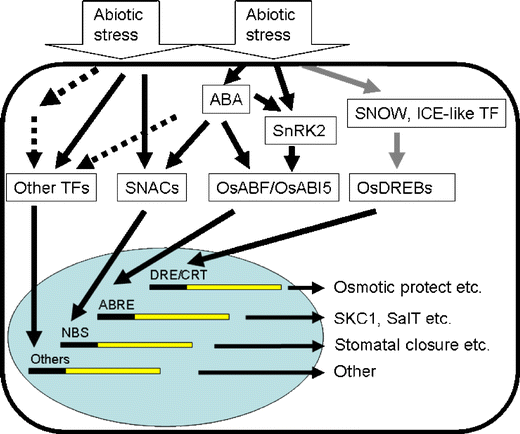 Functional proteins
Plant stress tolerance depends on the correct regulation of physiological mechanisms. This is achieved by multiple functional proteins participating in developmental, biosynthetic, and metabolic pathways. Based on changes at the transcript or/and activity level, functional proteins protect cells from stress by the removal of toxic elements, restoration of cellular homeostasis, and eventual recovery of normal growth patterns. For this review, we focused on enzymes associated with ROS scavenging and biosynthesis of compatible solutes and sodium transporters.
ROS scavenging system
ROS, including singlet oxygen (O21), superoxide radical (O2−), hydrogen peroxide (H2O2), and hydroxyl radical (HO−), are generated during aerobic metabolism and abiotic stress conditions. They are capable of unrestricted oxidation of various cellular components and can lead to membrane lipid peroxidation, protein oxidation, and enzyme inhibition [114]. Plant cells remove excess ROS produced during stress conditions by enzymatic and non-enzymatic mechanisms.
ROS-scavenging enzymes include superoxide dismutase (SOD), ascorbate peroxidase (APX), glutathione peroxidase (GPX), and catalase [7]. APX and GPX are the most studied scavenging enzymes in rice [76, 97, 168]. They belong to the plant peroxidase superfamily and catalyse the conversion of H2O2 to H2O. Because ROS also function as second messengers, their generation and removal are tightly regulated in different cellular components. There are eight APX enzymes in rice: two cytosolic (OsAPX1 and OsAPX2), two peroxisomal (OsAPX3 and OsAPX4), one mitochondrial (OsAPX6), and three chloroplastic isoforms (OsAPX5, OsAPX7, and OsAPX8) [168]. OsGPX1 and other plant GPX enzymes, on the other hand, are cytosolic [7, 76]. Under salt stress, OsAPX2, OsAPX7, and OsAPX8 show altered transcript levels [168], but only OsAPX8 is induced in roots [55]. NaCl, ABA, and H2O2 can enhance the expression of OsAPX8 in rice roots, while the NaCl-induced expression of OsAPX8 is mediated through the accumulation of ABA but not H2O2 [55]. Even isoforms with the same subcellular location may have distinct functions. Expression analysis reveals that OsAPX2 is up-regulated by salt [168]. Arabidopsis plants expressing OsAPX2 exhibit higher ROS-scavenging activity and salt tolerance than those expressing OsAPX1 [104].
Non-enzymatic antioxidants include the major cellular redox buffers ascorbate and glutathione, as well as carotenoids and tocopherol [7]. Alleviation of oxidative injury by the use of antioxidants can enhance plant resistance to abiotic stress. Guo et al. [49] found that feeding rice roots with l-ascorbic acid and its immediate precursor protected plants against oxidative damages, suggesting that manipulation of ascorbic acid biosynthesis could be a strategy for improving stress tolerance. During the antioxidation process, ascorbate itself is oxidized to dehydroascorbate; dehydroascorbate reductase (DHAR) re-reduces the oxidized ascorbate. A high ratio of reduced to oxidized ascorbate is important for ROS-scavenging efficiency. Ushimaru et al. [176] reported that overexpression of rice DHAR1 in Arabidopsis increases ascorbate levels, which leads to increased salt tolerance.
Compatible solute
Severe osmotic stress induced by drought, high salinity, and low temperature disrupts normal cellular activities [181]. Physiological studies have shown that a group of soluble organic compounds accumulate and function as osmoprotectants during osmotic stress [11]. Accumulation of compatible solutes such as amino acids (e.g., proline), quaternary and other amines (e.g., glycine betaine and polyamines), sugars (e.g., raffinose, sucrose, and trehalose), and sugar alcohols (e.g., mannitol) decrease the osmotic potential in the cytoplasm, thus protecting cellular function or maintaining the structure of cellular components [152].
In rice, physiological responses to the accumulation of several compatible solutes, as well as the transcript level of genes encoding enzymes for their synthesis, have been investigated under stress conditions [20, 21, 43, 66, 91, 130]. Manipulation of genes in the metabolic pathways is a common strategy to increase plant stress tolerance. For example, improved tolerance has been found in transgenic rice plants harboring genes involved in metabolism of compatible solutes such as proline [162, 190], glycine betaine [118, 147, 157, 163], polyamines [17, 141, 140], and trehalose [45, 46, 74].
Modulating multiple steps in the same pathway can result in a more efficient strategy. In Escherichia coli, trehalose-6-phosphate synthase (TPS, encoded by OstA) synthesizes trehalose-6-phosphate from glucose-6-phosphate and UDP-glucose. Trehalose-6-phosphate phosphatase (TPP, encoded by OstB) then catalyzes the formation of trehalose by removing the phosphate from trehalose-6-phosphate. Overexpression of a bifunctional fusion gene of TPS and TPP from E. coli in rice increases the trehalose level and stress tolerance without growth inhibition, probably resulting from reducing levels of deleterious trehalose-6-phosphate [74].
Sodium transporters
Sodium is a micronutrient in plant cells. Under high salinity, excessive accumulation of Na+ in cytosol disrupts enzymatic and photosynthetic functions and causes ion toxicity. Both Na+ efflux and vacuolar sequestration contribute to a lower cytosolic Na+ concentration. Na+/H+ antiporters catalyze the exchange of Na+ for H+ across the membranes in order to maintain ion homeostasis, as well as cytoplasmic pH and cell turgor [56]. In Arabidopsis, extruding Na+ out of cell is mediated by the plasma membrane Na+/H+ antiporter SOS1 [154], whose activity is regulated by the SOS3–SOS2 complex in roots and by the CBL10–SOS2 complex in shoots [132, 133]. Biochemical and genetic analyses have demonstrated that OsSOS1 is a functional homolog of SOS1. Plasma membrane preparations from yeast expressing OsSOS1 show greater capacity for Na+/H+ exchange, and OsSOS1 confers salt tolerance to the yeast mutant AXT3K (Δena1–4 Δnha1 Δnhx1) and the Arabidopsis sos1 mutant [112]. Na+ in cytosol can also be sequestered into vacuoles by the Na+/H+ antiporter OsNHX1 located in the tonoplast [41, 40]. The overexpression of OsNHX1 improves salt tolerance in transgenic rice plants, without adversely affecting Na+ and K+ levels or plant growth [41].
A high K+/Na+ ratio is essential for normal cellular functions. There is growing evidence that supports the idea that the capacity of plants to maintain a high K+/Na+ ratio correlates with salt tolerance [108]. Identification of a major quantitative trait locus (QTL) for shoot K+ content and salt tolerance revealed that SKC1 encodes a HKT-type Na+-selective transporter, OsHKT8 or OsHKT1;5 according to the new nomenclature [99, 131, 137]. SKC1 is preferentially expressed in parenchyma cells surrounding xylem vessels and up-regulated by salinity in roots. SKC1 functions to recirculate Na+ back to the roots by unloading Na+ from xylem sap, thereby maintaining shoot K+ homeostasis and enhancing salt tolerance [137]. In Arabidopsis, SOS1 [155] and AtHKT1;1 (or AtHKT1) [13, 164] also reduce shoot Na+ concentration through the vascular system, although the mechanisms are different from SKC1 [42].
High-affinity Na+ uptake has been reported in K+-starved seedlings of wheat [93], rice [44], and barley [53]. However, there is no direct evidence that a channel/transporter functions in Na+-selective uptake in plant roots. Studies using oshkt2;1 null mutants demonstrated that OsHKT2;1 (or OsHKT1) takes up Na+ under K+-starvation conditions [57]. Due to a dramatically reduced influx of Na+ in roots, oshkt2;1 mutants accumulate less Na+ in roots and shoots. They exhibit growth inhibition only under K+-starvation and low-Na+ conditions [57]. Unlike Arabidopsis containing one HKT gene, seven HKT genes have been identified in rice cv. Nipponbare [44]. Given this large number of genes, rice may be a better model for understanding the role of HKTs in regulating Na+ transport [142].
Perspective
Abiotic stress is one of the primary factors limiting global crop yields. Genetic and molecular approaches are powerful tools in the identification of a multitude of genes involved in abiotic stress response and tolerance. Combining these approaches with high throughput technologies, such as microarray/genechip, allows for the identification of novel, stress-responsive genes and signaling cross-talk on a genome-wide basis. Moreover, the accessibility of the rice genome and various mutant libraries should accelerate the identification of regulatory components and functional proteins in this crop.
Although substantial progress has been made, breeding and genetic modulation of rice plants in order to improve abiotic stress tolerance is still a challenge. One major limitation to progress is the lack of knowledge of the functions and interactions of tolerance-related genes. While many genes have been identified with great potential for abiotic-stress engineering, most of them, more or less, affect rice morphology when they are constitutively overexpressed. Utilization of some of these genetic characteristics, therefore, while producing desirable stress-related results, may have concomitant negative impacts. Quantifying the advantages and disadvantages of breeding may take some time. However, it is desirable to generate plants with gene expression driven by a controllable promoter so that the gene products are not produced unless under stress conditions. So far, some reports that used a stress-inducible promoter to express foreign genes have shown increased abiotic stress tolerance with normal plant growth [
140
,
141
,
162
,
163
]. Combined with other genetic and molecular approaches, the exploitation of rice stress-responsive genes (Table
1
) for engineering breeding will certainly accelerate.
Table 1
Effect of Selected Rice Genes on Abiotic Stress Tolerance
Gene (Product)

Phenotype (approach)

Reference

Component of signal transduction pathway

OsCIPK3 (calcineurin B-like-interacting protein kinase)

Cold tolerance (o)

[180]

OsCIPK12 (calcineurin B-like-interacting protein kinase)

Drought tolerance (o)

[180]

OsCIPK15 (calcineurin B-like-interacting protein kinase)

Salt tolerance (o)

[180]

OsCDPK7 (Ca2+-dependent protein kinase)

Cold, drought and salt tolerance (o)

[145]

OsCDPK13 (Ca2+-dependent protein kinase)

Cold tolerance (o)

[1]

OsMAP1/OsMAPK5 (mitogen-activated protein kinase)

Cold, drought and salt tolerance (o); Cold, drought and salt sensitivity (r)

[182]

Transcription factor

OsDREB1A, OsDREB1B (DRE-binding protein)

Cold, drought and salt tolerance (o)

OsABI5 (bZIP transcription factor)

Salt tolerance (a); Salt sensitivity (o)

[194]

SNAC1 (stress-responsive NAC 1)

Drought and salt tolerance (o)

[60]

SNAC2 (stress-responsive NAC 2)

Cold and salt tolerance (o)

[59]

Sub1A-1 (ethylene-response-factor)

Submergence tolerance (n, o)

Functional protein

OsAPX1, OsAPX2 (ascorbate peroxides)

Salt tolerance (o)

[104]

DHAR1 (rice dehydroascorbate reductase)

Salt tolerance (o)

[176]

OsTPP1 (trehalose-6-phosphate phosphatase)

Cold and salt tolerance (o)

[46]

OsSOS1 (plasma membrane Na+/H+ antiporter)

Salt tolerance (o)

[112]

OsNHX1 (tonoplast Na+/H+ antiporter)

Salt tolerance (o)

[41]

SKC1 (rice HKT-type Na+ transporter)

Salt tolerance (n, o)

[137]
In addition, abiotic stress tolerance is a quantitative trait loci characteristic, influenced by a large number of genes; modulation of one or several genes is limited with regard to favorable abiotic-stress engineering. In the last few decades, QTL mapping studies allowed, at least in part, identification of specific chromosome segments that carry these QTLs or candidate genes. As QTL mapping is a challenging task, only two major QTLs for stress tolerance, SKC1 and Sub1, have been successfully cloned by now. Because a number of minor QTLs may also be responsible for a large portion of phenotypic variation, these minor QTLs can be integrated together with the major QTL by a QTL-pyramiding breeding strategy. QTL pyramiding can assemble tolerant genes together for one specific trait or for two or more different traits by using marker-assisted selection. More knowledge about the genetics and molecular basis of related traits will be helpful in this direction. In conjunction with these efforts, characterization of the genetic and functional interactions of more abiotic stress-related genes is necessary.
Authors' Affiliations
(1)
National Key Laboratory of Plant Molecular Genetics, Shanghai Institute of Plant Physiology and Ecology, Shanghai Institutes for Biological Sciences, Chinese Academy of Sciences, Shanghai, China
(2)
Department of Horticulture and Landscape Architecture, Purdue University, West Lafayette, USA
Copyright
© Springer Science + Business Media, LLC 2008