Mechanisms for coping with submergence and waterlogging in rice
Received: 21 November 2011
Accepted: 27 February 2012
Published: 27 February 2012
Abstract
Rice (Oryza sativa L.), unlike other cereals, can grow well in paddy fields and is highly tolerant of excess water stress, from either submergence (in which part or all of the plant is under water) or waterlogging (in which excess water in soil limits gas diffusion). Rice handles submergence stress by internal aeration and growth controls. A quiescence strategy based on Submergence-1A (SUB1A) or an escape strategy based on SNORKEL1 (SK1) and SNORKEL2 (SK2) is used for the growth controls. On the other hand, rice handles waterlogging stress by forming lysigenous aerenchyma and a barrier to radial O2 loss (ROL) in roots in order to supply O2 to the root tip. In this article, we summarize recent advances in understanding the mechanisms of responding to excess water stresses (i.e., submergence and waterlogging) in rice and other gramineous plants.
Keywords
AerenchymaBarrier to radial O2 lossLeaf gas filmsRiceSubmergenceWaterlogging
Introduction
Plants require water for growth but excess water that occurs during submergence or waterlogging is harmful or even lethal. A submerged plant is defined as "a plant standing in water with at least part of the terminal above the water or completely covered with water" (Figure
1
;
Catling 1992
). Submergence subjects plants to the stresses of low light, limited gas diffusion, effusion of soil nutrients, mechanical damage, and increased susceptibility to pests and diseases (
Greenway and Setter 1996
;
Ram et al. 1999
). Basically, flooding (
i.e
., submergence) can be classified into "flash flooding" and "deepwater flooding" in accordance with the duration of flooding and the water depth (
Bailey-Serres et al. 2010
;
Catling 1992
;
Jackson and Ram 2003
). Flash flooding, which generally lasts less than a few weeks, is caused by heavy rain but the depth is not very deep. On the other hand, deepwater flooding, which lasts for several months, occurs during the rainy season, and the water depth reaches several meters (
Catling 1992
;
Hattori et al. 2011
).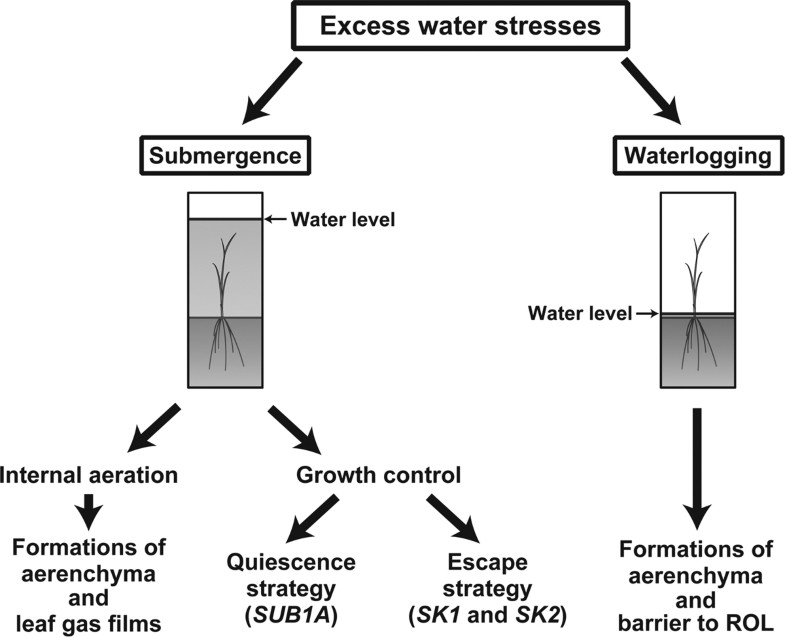 Waterlogging is defined as a condition of the soil in which excess water limits gas diffusion (Figure 1; Setter and Waters 2003). Oxygen diffusivity in water is approximately 10,000 times slower than in air, and the flux of O2 into soils is approximately 320,000 times less when the soil pores are filled with water than when they are filled with gas (Armstrong and Drew 2002, Colmer and Flowers 2008). The principal cause of damage to plants grown in waterlogged soil is inadequate supply of oxygen to the submerged tissues as a result of slow diffusion of gases in water and rapid consumption of O2 by soil microorganisms. Oxygen deficiency in waterlogged soil occurs within a few hours under some conditions. In addition to the O2 deficiency, production of toxic substances such as Fe2+, Mn2+, and H2S by reduction of redox potential causes severe damage to plants under waterlogged conditions (Drew and Lynch 1980; Setter et al. 2009). Thus, growth and development of most plants, except for rice (Oryza sativa L.) and other wetland species, are impeded under waterlogged conditions.
Unlike other crop plants, rice has some adaptive traits for tolerance of submergence. One of the traits is formation of the longitudinal interconnection of gas spaces, called aerenchyma, that enables internal aeration between shoot and roots (Armstrong 1979; Colmer 2003a; Colmer and Pedersen 2008a) Moreover, leaf gas films, which are a micro-layer of air trapped between submerged leaves and the surrounding water, contribute to the internal aeration during submergence, thereby increasing submergence tolerance in rice (Colmer and Pedersen 2008b; Pedersen et al. 2009; Raskin and Kende 1983).
Many lowland rice cultivars, despite having an ability of internal aeration, are still sensitive to complete submergence. Their leaves and stems moderately elongate under complete submergence to reach the air-water interface, but their elongation growth can exhaust energy reserves and cause death when the flooding depth is deep and the flooding period is long (Bailey-Serres et al. 2010; Jackson and Ram 2003). However, some cultivars use two distinct strategies of growth controls to survive under submerged conditions. One of the strategies is a quiescence strategy [i.e., the low-oxygen quiescence syndrome (Colmer and Voesenek 2009)] (Figure 1), in which shoot elongation is suppressed to preserve carbohydrates for a long period (10-14 days) under flash-flood conditions. Submergence-tolerant cultivars can restart their growth during desubmergence by using preserved carbohydrates. Another strategy is an escape strategy [i.e., the low-oxygen escape syndrome (Bailey-Serres and Voesenek 2008; Colmer and Voesenek 2009)] (Figure 1), which involves fast elongation of internodes to rise above the water level and is used by deepwater rice cultivars. Both strategies depend on ethylene-responsive transcription factors (Hattori et al. 2009; Xu et al. 2006).
The main adaptation of lowland rice to soil waterlogging is the formation of aerenchyma, which permits relatively unhindered transport of O
2
from well-aerated shoots to submerged roots (Figures
1
,
2
;
Armstrong 1979
;
Jackson and Armstrong 1999
). Longitudinal diffusion of O
2
towards the root apex can be further enhanced by induction of a barrier to radial O
2
loss (ROL) that minimizes loss of O
2
to the surrounding environment (Figures
1
,
2
). Furthermore, this barrier may impede the movement of soil-derived toxins (
i.e
., reduced metal ions) and gases (
e.g
. methane, CO
2
, and ethylene) into the roots (
Armstrong 1979
;
Colmer 2003a
;
Greenway et al. 2006
). Both upland and lowland rice species use these traits under waterlogged conditions (
Colmer 2003b
).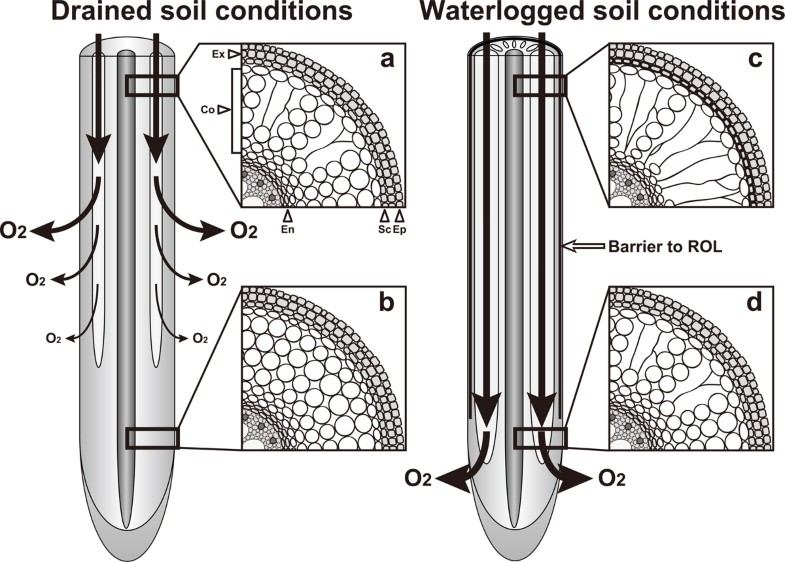 Some recent reviews summarized the mechanisms of flooding tolerance in plants (Bailey-Serres and Voesenek 2008; Bailey-Serres et al. 2010; Colmer and Voesenek 2009; Hattori et al. 2011; Nagai et al. 2010). In this review, we include recent discoveries that were not covered in the previous reviews and summarize what is known about the physiological and molecular mechanisms that contribute to tolerance to, or avoidance of, submergence (i.e., internal aeration and growth controls) and also adaptation to waterlogging (i.e., formations of aerenchyma and a barrier to ROL) in rice and other gramineous plants.
Conclusions
This review summarizes what is known about the physiological and molecular mechanisms used by rice to cope with submergence and waterlogging. For submergence, the mechanisms include internal aeration and growth controls (i.e., a quiescence strategy or an escape strategy). For waterlogging, the mechanisms include formation of aerenchyma and a barrier to ROL. These adaptive traits enable rice plants to have high tolerance to submergence or waterlogging compared with other dryland crops. An advantage of rice is that its genome has been fully sequenced and many tools for studying its molecular biology and genetics (e.g. oligo microarrays, mutant collections, and databases) have been developed. These resources should accelerate our understanding of the mechanisms involved in adaptation of rice to excess water stress and should lead to their introduction into dryland crops.
Declarations
Acknowledgements
The authors thank Drs. T. D. Colmer and K. Shiono for stimulating discussions. This work was supported partly by a grant from the Bio-oriented Technology Research Advancement Institution (Promotion of Basic Research Activities for Innovative Biosciences), a grant from the Ministry of Agriculture, Forestry, and Fisheries of Japan (Genomics for Agricultural Innovation, IPG-0012), and grants-in-aid from the Ministry of Education, Culture, Sports, Science, and Technology of Japan. LK is grateful to the Japanese Society for the Promotion of Science for the postdoctoral fellowship.
Authors' Affiliations
(1)
Laboratory of Plant Genetics and Breeding, Graduate School of Bioagricultural Sciences, Nagoya University, Furo-cho, Chikusa, Nagoya, Japan
Copyright
© Nishiuchi et al; licensee Springer. 2012
This article is published under license to BioMed Central Ltd. This is an Open Access article distributed under the terms of the Creative Commons Attribution License (http://creativecommons.org/licenses/by/2.0), which permits unrestricted use, distribution, and reproduction in any medium, provided the original work is properly cited.