A Genetic Focus on the Peopling History of East Asia: Critical Views
Received: 24 October 2011
Accepted: 2 November 2011
Published: 2 December 2011
Abstract
Population genetic studies may provide crucial information for our knowledge on human peopling history and have been extensively applied to reconstruct East Asian prehistory in the last 10 years. However, different genetic investigations are not always consistent with each other and some results are conflicting or misinterpreted. This represents a main obstacle for scholars of other disciplines like archaeologists and linguists who try to relate the genetic information on past human migrations to their own results on the spread of domesticated crops or animals or on the dispersal of the main language families. In this paper, we review the current genetic evidence related to the peopling history of East Asia with a critical view on some interpretations. In this way, we hope to provide a useful reference for further interdisciplinary studies on our past.
Keywords
East AsiaGenetic diversityHuman peopling historyGenetic clinesGenetic boundariesmtDNAY chromosomesHLAPincer modelSouthern route
Introduction
East Asia is a very large geographic area of the world currently inhabited by more than 1.5 billion people, which represents about 22% of the world population. According to the current fossil record and as supported by genetic evidence, it is likely that modern humans did not originate in East Asia (Jin and Su 2000). However, this vast continental region was probably settled very early in the Paleolithic when the first Homo sapiens spread throughout the world, presumably from East Africa; although southern Africa has recently been proposed as another possible original homeland (Henn et al. 2011) and very early well-dated skeletons are also known in the Levant (Stringer et al. 1989). Old human fossil remains are yet very scarce in East Asia (with a very uncertain date of 68,000 years for the most ancient fossil known to date, Liujiang, that was found by chance (Shen et al. 2002)) and do not allow on their own to reconstruct East Asian prehistory. During the last decades, different disciplines, i.e., archaeology, linguistics and population genetics, have been involved together in the reconstruction of human peopling history, bringing some indisputable results but also revealing the extraordinary complexity of East Asian past human settlement history (Sagart et al. 2005a; Sanchez-Mazas et al. 2008). As a matter of fact, distinct scenarios of human migrations in East Asia are still disputed today, like the first arrival of H. sapiens from West Asia, either through a single southern route along the sea coast or through two independent routes via the southern and northern edges of the Himalayas. Also, human population migrations in East Asia have been investigated in relation to the spread of agriculture and the main linguistic families, leading to quite different views on the subject.
In this paper, our objective is to make clear the current genetic evidence related to East Asian peopling history. To that aim, we have described the available information—including our own conclusions based on human leucocyte antigen (HLA) genetic studies—within two distinct sections to distinguish the raw genetic results from their interpretation, the latter being more subjective and open to criticism. We also underline the major limitations of such genetic studies, as a complement to what was previously explained by Blench et al. (2008). Finally, we propose some perspectives in this area for future genetic studies. We hope that this clarification will be useful to scholars of other disciplines who are often confused by the very specialized and often contradictory information provided by population genetics studies.
Raw results from population genetic studies
Interpretation of genetic results and methodological issues
The genetic results described above have been the subject of multiple interpretations on the peopling history of East Asia. A long-standing debate is that of the first arrival of modern humans in East Asia after their expansion out of Africa, either through a single southern route towards Southeast Asia with later migrations towards the north (Chu et al. 1998; Shi et al. 2005, 2008; Su et al. 1999), or through two independent routes, a southern and a northern, with later bi-directional migrations and admixture in East Asia (pincer and overlapping models) (Cavalli-Sforza et al. 1994; Di and Sanchez-Mazas 2011; Ding et al. 2000; Karafet et al. 2001; Xiao et al. 2000; Zhong et al. 2011). Two kinds of genetic arguments have been used to sustain the first hypothesis: a very old age for the M lineage in Southeast Asia and its derivatives M31 and M32 in the Andaman islands, and a greater genetic diversity in SEAS, as compared to NEAS.
However, none of these arguments constitutes a definitive proof. Firstly, as described above, very different TMRCAs were obtained for M lineages (Fig. 2). Also, TMRCA estimates often display very large confidence intervals and, unfortunately, non-genetic (e.g., archaeological) data are sometimes used to adopt a final estimation closer to the upper or lower bond of the interval, as exemplified above for the age of the O-M122 T → C allele (Fig. 2). Secondly, we have shown that the heterogeneity of the sample sets used in different studies may explain contradictory results concerning the level of genetic diversity of northern and southern populations, respectively, with crucial consequences in this debate; in the two examples described above, the study design (in this case, the choice of the samples, where many northeast Asian populations were excluded) was built according to non-genetic (e.g., historical) information, thus matching the expected result, i.e., the identification of the most ancient layer of human migrations in East Asia, which was then taken as the unique migration event (the southern route). Actually, northern populations are found to be genetically more diverse than southern populations, which of course does not mean that the peopling of Northeast Asia was more ancient. Based on different genetic evidence, it merely seems that this diversity reflects a network-like genetic structure of northeast Asian populations in relation to Central Asian populations, while Southeast Asia would have remained more isolated. A pincer or overlapping model (Di and Sanchez-Mazas 2011) suggesting independent migrations along a southern and a northern route, yet at distinct prehistoric periods (i.e., Paleolithic and post-glacial periods, respectively) is more compatible with the observed data.
A remarkable result of most studies cited above is the very old dates inferred from phylogenetic studies for some molecular lineages, although the estimated dates strongly depend upon the method used (Blench et al.
2008
). Given the estimated time ranges, the oldest dates inferred from genetic studies are compatible with old settlements of modern humans in East Asia attested by fossil or archaeological remains (Fig.
3
) (Chen et al.
1989
; Mijares et al.
2010
; Shang et al.
2007
; Shen et al.
2002
; Sun et al.
2000
; Vasil'ev
1993
; Wu et al.
2006
). However, ancient molecular lineages may just represent limited heritages of undefined ancestral populations rather than real indications on the origin and migration history of present populations. This illustrates very well one of the main methodological problems discussed by Blench et al. (
2008
), the fact that genetic tree nodes do not correspond to identifiable events in population history, and are generally older than population events. Then such dates might not be useful to depict extensive human migrations like those occurring in the Neolithic. This period was probably characterized by wide demographic expansions, long-range migrations and recurrent gene flow between neighboring populations, and other kinds of genetic signals should be explored. This is why specific approaches capable of detecting demographic expansions have been used. Here again, however, very old dates have been inferred, i.e., corresponding to Paleolithic times (
∼
70,000 years) or to different periods predating or closely following the LGM, but, in any case, older than the Neolithic. Such signals may correspond, respectively, to the first expansion of modern humans throughout the world and to postglacial recolonizations, while more recent events would not be easily disentangled by using such approaches. Note, however, that older signals of population expansions are detected for northern Asian populations (Xue et al.
2006
), and also for paternally rather than maternally inherited markers (Chaix et al.
2008
). These results may be relevant for further inter-disciplinary studies.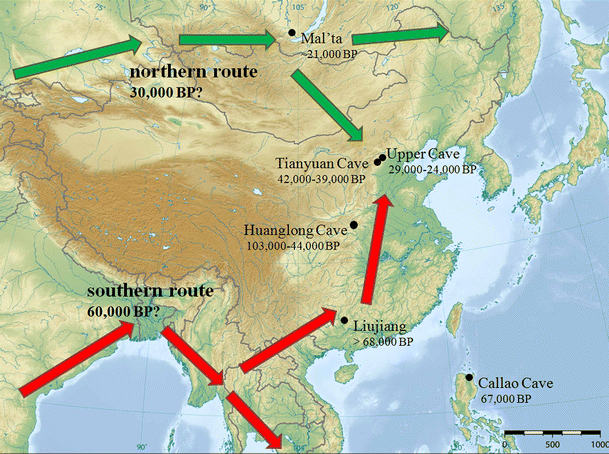 Descriptive approaches like PCA, MDS, spatial autocorrelation analyses aiming at detecting genetic clines, specific statistical analyses used to identify genetic boundaries, as well as correlation analyses allowing the comparison of genetic variation with either geographic or linguistic data are still very useful to understand how the current genetic pool of East Asian populations is structured. We have stressed the fact that the identification of genetic boundaries is highly dependent upon the sample set available for the analyses; that is, significant genetic barriers are susceptible to be detected through uneven sampling along genetic clines! However, we may conclude from the different studies cited above that the north to south continuous genetic pattern observed in East Asia crosses a region of sharper variation around the Yangtze or Huai Rivers; actually, as this boundary appears to be significant only when Han populations are considered, it may correspond to a recent (<1,500 years) linguistic subdivision between Mandarin and southern Chinese speakers, as proposed by Sagart et al. (2005b)
The overall pattern of genetic variation in East Asia is yet continuous, characterized by many genetic clines along the latitude, and, to a lesser extent, along the longitude between Central and Northeast Asia. It is tempting, of course, to relate those clines to the expansion of specific linguistic families: e.g., Altaic, to explain the continuous pattern between CAS and NEAS; and Sino-Tibetan, from the Yellow River in the North to southwest and southern regions, corresponding to the expansion of Tibeto-Burman and Sinitic-speakers, respectively. However, to interpret genetic clines is delicate as such clines may be explained by very different mechanisms (Fig.
4
): demic diffusion with admixture between genetically distinct populations (Ammerman and Cavalli-Sforza
1984
), serial founder effects (Deshpande et al.
2009
), isolation-by-distance where gene flow happens between neighboring populations (Novembre and Stephens
2008
; Reich et al.
2008
), or even differential adaptation to distinct environments, including varying prevalence of infectious diseases (Suo et al.
2011
). In the current state of research, no definitive conclusion on the genetic clines observed in East Asia has been reached. This issue is yet crucial to understand the demographic impact of Neolithic migrations like those probably related to the expansion of linguistic families and/or rice and millet domestication in East Asia. Also, specific models have to be considered to investigate the expansion patterns of discontinuously dispersed linguistic families like Austroasiatic. Although several independent genetic studies sustain a Southeast Asian origin of this family, with later migration to India where populations underwent intensive gene flow, the evidence is still weak as no signals of such scenario have been found for mtDNA.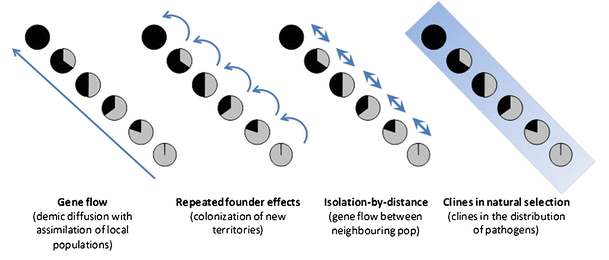 Conclusion and perspectives
We have presented a brief summary of current genetic evidence on the peopling history of East Asia by dissociating some raw genetic results from their interpretation, and by pointing out some important methodological problems. A recurrent problem in all kinds of genetic studies is of course insufficiency in the set of population samples analyzed and one should be aware that this may have crucial consequences on the interpretation of the results. Also, misinterpretation may be due to ascertainment bias in the choice of markers. Another critical issue is the interpretation of molecular phylogenies and TMRCAs; to our view, such genetic approaches are useful as long as they ask questions adapted to the data to which they apply, i.e., questions related to the genealogy of molecules and not to the history of populations.
Although the present paper is not supposed to present an exhaustive review of the literature on the subject, the main results that we have described above indicate a general lack of genetic evidence related to the expansion of the main linguistic families or the diffusion of farming in East Asia during the Neolithic. This is probably because specific hypotheses on these issues are generally not formulated a priori; rather, genetic analyses are performed on sets of available population samples and the results interpreted a posteriori in relation to other disciplines. A main pitfall is that several alternative explanations commonly match the genetic results; then, it is tempting to choose the one that corresponds better to the hypothesis defended a priori by the researcher. A more robust—or, at least, complementary—approach would be first to establish alternative scenarios of peopling history on the basis of different, non-genetic, disciplines, and then to test those scenarios by using genetic approaches.
Computer simulation studies are very appropriate in this respect and represent an interesting perspective, as they may even accommodate models where the genetic loci are submitted to natural selection (like HLA). This can be useful to test scenarios where not only demographic, but also environmental factors are taken into account. This approach has already provided relevant results to understand the peopling history of specific geographic regions (Currat et al. 2010) and is currently being applied to East Asia to test the "southern route" hypothesis versus the "pincer" or "overlapping" models (Di et al. (2011) In prep. Testing the peopling history of East Asia through computer simulation). However, it also needs a deep collaboration between scholars of different disciplines to establish the scenarios to be tested and to propose acceptable values for the parameters needed in the simulations, e.g., demographic parameters. This is our future goal to reconstruct the peopling history of East Asia, and we encourage researchers to participate.
Abbreviations
HLA:

Human leucocyte antigen
RH:

Rhesus
GM:

IgG immunoglobulins' genetic marker
SNPs:

Single-nucleotide polymorphisms
NRY:

Non-recombining portion of the Y chromosome
mtDNA:

Mitochondrial DNA
STR:

Short tandem repeat
PCA:

Principal component analysis
MDS:

Multidimensional scaling analysis
AMOVA:

Analysis of molecular variance
MRCA:

Most recent common ancestor
NEAS:

Northeast Asian populations
SEAS:

Southeast Asian populations
CAS:

Central Asians
WAS:

West Asians
Declarations
Acknowledgments
This work was supported by FNS (Switzerland) grants: 3100A0-112651 and 31003A_127465 to ASM, and by ESF COST (Europe) grant to Action BM0803. We warmly thank Dr. Laurent Sagart for his helpful comments.
Open Access
This article is distributed under the terms of the Creative Commons Attribution Noncommercial License which permits any noncommercial use, distribution, and reproduction in any medium, provided the original author(s) and source are credited.
Authors' Affiliations
(1)
Laboratory of Anthropology, Genetics and Peopling history, Anthropology Unit, Department of Genetics and Evolution, University of Geneva, Geneva, Switzerland
Copyright
© The Author(s) 2011
This article is published under license to BioMed Central Ltd. Open Access This article is distributed under the terms of the Creative Commons Attribution Noncommercial License which permits any noncommercial use, distribution, and reproduction in any medium, provided the original author(s) and source are credited.