Salinity tolerance mechanisms in glycophytes: An overview with the central focus on rice plants
Received: 13 June 2012
Accepted: 22 June 2012
Published: 22 June 2012
Abstract
Elevated Na+ levels in agricultural lands are increasingly becoming a serious threat to the world agriculture. Plants suffer osmotic and ionic stress under high salinity due to the salts accumulated at the outside of roots and those accumulated at the inside of the plant cells, respectively. Mechanisms of salinity tolerance in plants have been extensively studied and in the recent years these studies focus on the function of key enzymes and plant morphological traits. Here, we provide an updated overview of salt tolerant mechanisms in glycophytes with a particular interest in rice (Oryza sativa) plants. Protective mechanisms that prevent water loss due to the increased osmotic pressure, the development of Na+ toxicity on essential cellular metabolisms, and the movement of ions via the apoplastic pathway (i.e. apoplastic barriers) are described here in detail.
Keywords
Salt Tolerance
Salinity Stress
Rice Root
Glycine Betaine
Bypass Flow
Background
The global climate change is feared to promote rapid soil degradations in agricultural lands worldwide. Soil salinization is one of the serious soil degradations, which can arise from natural causes and human-mediated activity such as irrigation in arid and semi-arid regions. Approximately 20% of the irrigated lands in the world are presumably affected by soil salinization (Yeo [1999]). Salinity stress significantly reduces growth and productivity of glycophytes, which are the majority of agricultural products. The term "salinity" represents all the problems of the soil accumulating excessive salts, which can be categorized into sodic (or alkaline) and saline soils (IRRI [2011]). Sodic soils having a poor soil structure generally spread over arid and semi-arid regions, retaining high concentrations of Na+ at the exchangeable site of clay particles in the soil, which shows high pH (greater than 8.5) with a high exchangeable sodium percentage (ESP > 15) (IRRI [2011]). Saline soils can be generally found in arid regions, estuaries, and coastal fringes, which are dominated by Na+ ions with electrical conductivity (EC) more than 4 dS/m that corresponds to approximately 40 mM NaCl (IRRI [2011]; Munns and Tester [2008]). Moreover, saline soils exhibit ESP of < 15 and much lower pH values than the sodic soils (IRRI [2011]).
Plants have to cope with two major stresses under high salinity, osmotic stress and ionic stress (Figure
1
). The former stress immediately comes over plants in accordance with a rise in salt levels outside the roots, which leads to inhibitions of water uptake, cell expansion and lateral bud development (Figure
1
) (Munns and Tester [
2008
]). The latter stress phase develops later when toxic ions such as Na
+
accumulate in excess in plants particularly in leaves over the threshold, which leads to an increase in leaf mortality with chlorosis and necrosis, and a decrease in the activity of essential cellular metabolisms including photosynthesis (Figure
1
) (Yeo and Flowers [
1986
]; Glenn et al. [
1999
]). Recent molecular physiological and molecular genetic studies have increasingly gained knowledge for the protection mechanisms that plants use to cope with detrimental effects of salinity stress (Blumwald [
2000
]; Zhu [
2002
]; Pardo et al. [
2006
]; Munns and Tester [
2008
]; Horie et al. [
2009
]; Hauser and Horie [
2010
]). Many studies also highlight the significance and relevancy of the functions/regulations of important membrane proteins such as water channels and Na
+
transporters (Horie and Schroeder [
2004
]; Maurel et al. [
2008
]; Ward et al. [
2009
]) and also signaling molecules (Zhu [
2002
]) to plant salt tolerance.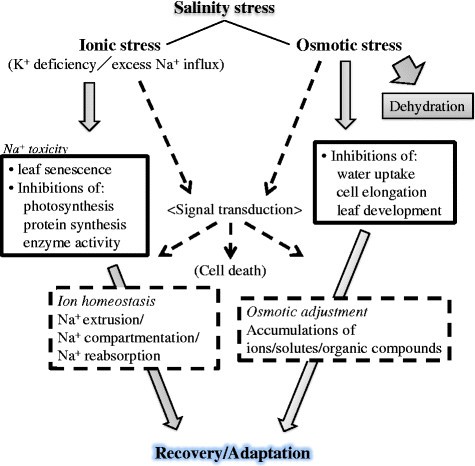 In this review, we summarize the problems caused by soil salinity and molecular mechanisms that protect plants from salinity stress, combining knowledge from classic physiology with the recent findings. Rice is the most salt sensitive among cereals (Munns and Tester [2008]). In rice, it has been observed that the rate of Na+ uptake into shoots mediated by the intrusive apoplastic ion transport is considerably high under salinity stress (Yeo et al. [1987]; Yadav et al. [1996]; Ochiai and Matoh [2002]). Therefore, in addition to the first two sections where responses of plants to osmotic stress and ionic stress are mentioned, we particularly highlight morphological traits/barriers of plant roots under salinity stress in the last section of this review. Current achievements of investigators and future prospects are discussed.
Conclusion
Soil salinity is a serious problem in the world agriculture. Owing to efforts of investigators and elevated levels of technologies, our knowledge on the mechanisms of plant salinity tolerance is dramatically expanding these days. However, individual plant species exhibits distinct salt sensitivity due to morphological differences and the difference in the ability of protection components that the plant has evolved to depend on. Therefore, challenges to elucidate the roles/significances of protection mechanisms in plant salt tolerance including morphological barriers at molecular, cellular and whole plant levels in further depth will be crucial to develop high-yielding salt-tolerant cultivars.
Declarations
Acknowledgements
We thank Dr. Junko Sakura-Ishikawa and Dr. Mari Murai-Hatano (NARO Tohoku Agricultural Research Center, Japan) for providing us with the unpublished data. We would also like to thank Dr. Pulla Kaothien-Nakayama for the comments on the manuscript. This work was supported by the grants from the Ministry of Education, Culture, Sports, Science, and Technology, Japan (Grant-in-Aid for Scientific Research no. 23119507 T.H.) and the Program for Promotion of Basic Research Activities for Innovative Biosciences (PROBRAIN), Japan (to M.K.).
Authors' Affiliations
(1)
Division of Applied Biology, Faculty of Textile Science and Technology, Shinshu University, Nagano, Japan
(2)
Department of Biology, Graduate School of Science and Engineering, University of Toyama, Gofuku, Toyama, Japan
(3)
Institute of Plant Science and Resources, Okayama University, Okayama, Japan
Copyright
© Horie et al.; licensee Springer. 2012
This article is published under license to BioMed Central Ltd. This is an Open Access article distributed under the terms of the Creative Commons Attribution License (http://creativecommons.org/licenses/by/2.0), which permits unrestricted use, distribution, and reproduction in any medium, provided the original work is properly cited.